Doors are an underutilized design element in most homes. After all, we are more concerned with its functionality than the way it looks, right?
What most of us fail to realize, however, is that the entrance door is the first thing your visitors will see; it is what would give them the sneak preview to the main attraction that is your private domain. We don't know about you but that gives us all the more reason to spruce up our doors and let it reflect our personalities.
So here are 10 DIY door decors that would make your visitors feel welcome the minute they cross that threshold:
Chalkboard Sign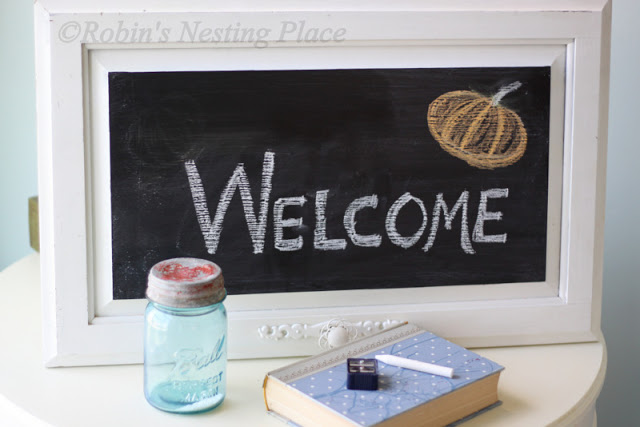 If you're the type who wants to shuffle your front door welcome message from time to time, this chalkboard sign is for you.
The frame is repurposed from an old cabinet door painted with chalk paint. To make it door-friendly, hang the chalkboard with a cute ribbon partnered with a cheap but stylish planter. Click here for the tutorial and go crazy with writing a welcome message!
Chalkboard Door
Or if you want to go all out with your chalk art, paint the entire door with chalkboard paint and let the kids have fun decorating. You can even include the elevated step (if you have one) to avoid the number of stubbed toes and visitors cursing under their breaths before even knocking on your door.
Paint the frame white to complement the chalkboard. Pinterest is a gold mine for some really good chalk design inspiration.
B&W Door Using Electrical Tapes
If you think electrical tapes are only good for patching together open wires and your slowly deteriorating Apple cord, think again.
I Spy DIY created a tutorial on how to use electrical tapes to create this beautiful black and white door, perfect to give homes that funky and young vibe.
Wood Tags
These giant wood tags are a simple but eye-catching way to welcome your guests to your home. All you need are plywood, paint (for the letters), some stylish rope, clear semi-gloss poly, and you're good to go. Click here for the tutorial. One of the best things about this is that you can create other wood tags to hang on doors of your kids' bedrooms.
Garden Hose Wreath
Those who are gifted with green thumbs, rejoice! This garden hose wreath will let your front door speak for your love of the world's flora.
Choose a hose of your preferred color, then tie it together with your favorite flowers. Although this tutorial uses silk flowers from crafts stores, show off your garden by using your own homegrown flowers to regularly change your door décor.
Easy 30-Minute Daisy Wreath
So you say you only have a limited time over the weekend to create a door décor? We got you.
This tutorial would only take, more or less, 30 minutes of your time. You would need an unused (or purchase one in the design of your choice) frame, paint it white, then attach a large-sized flower on the lower right corner. Hang it up and voila! You got yourself your own door décor, all in less than an hour.
Dream Catcher
Chase the Bogeyman (or the mumu?) away the minute you step inside your home. Dream catchers are believed to give their owners good dreams, as per Native American tradition.
Through The White Door provided a step-by-step guide in creating your own dream catchers that you can then hang on your door. You can also add some feathers and beads for a more authentic feel.
Welcome Flower Basket
Although the –ber months are all about gray skies and heavy rains, your front door doesn't always need to follow the weatherman. This tutorial will let you show how much you defy the wet season by hanging flowers on your door that would totally scream summer.
Address Planter Door Décor
Sometimes, DIY projects look so much like the ones you can purchase on arts and crafts stores. This DIY address planter is one of those projects.
You would need a planter box, some faux flower and succulents, and adhesive house numbers. This DIY would fit those who want to regularly change their door decors, depending on their mood or the season.
Wreath For All Seasons
Sure, this tutorial followed the colors of fall, but the absence of autumn in the Philippines doesn't stop us from loving its colors nor from creatively adapting this project.
Wreaths are go-to pieces to hang on doors, but instead of simply buying one, you can hang one that you can proudly say handmade. You would need foam wreath form and lots and lots of flowers. Brush up on your color theory and go for colors that complement each other. Soon enough, your door wreath will be the talk of the kapitbahay.
Which of these projects would improve the look and feel of your door? Let us know in the comments!