Have you ever wondered what it must be like to lie on a bed of silken sheets inside a room overlooking a great view of the city?
Well, we have and we'd like to share these fantasies of grandeur with you.
See, one of the best things about being at the top is, quite literally, living there.
It's no surprise then that penthouses are often included in pop music, especially if it speaks of the artist's rags-to-riches story. And understandably so—these top-floor residences are bedecked with expensive furniture and decors, with a lot of them going up to millions of dollars.
Although lavish living may feel more like a dream than reality (for now!), nobody's stopping you from checking out penthouses around the world and catching a serious bug of wanderlust.
After all, you mustn't be afraid to dream a little bigger, darling.
So here are 7 stunning penthouses you can look at, drool over, or maybe put up on your dream board for more ~goal attraction~. No buzzkills allowed!
1. Bantry Bay Suite Hotel Penthouse
How would you like to wake up to the sight and smell of the ocean?
Located in Cape Town, South Africa, the penthouse at Bantry Bay Suite Hotel occupies its two topmost floors. On the ground floor, you have the lounge, dining room, kitchen, and the shower. On the top floor, you have the bedroom and the second bathroom.
The real clincher here is the private roof terrace outside the bedroom that would give you a view of Cape Town's Lion's Head as well as a spectacular view of the Atlantic Ocean.
2. N.B.K. Residence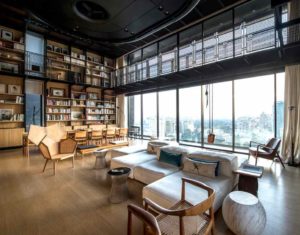 Bibliophiles, listen up: Heaven on earth exists!
All you have to do is visit this three-story penthouse in Beirut, Lebanon.
A definite triple threat on top of the 9th floor, this penthouse has a floor-to-ceiling library, a rooftop swimming pool, and a beautiful view of the city. Who would want to leave this place?
3. Sky Garage Penthouse
You haven't taken a peek at luxury until you've seen Sky Garage Penthouse in New York, USA.
Sure, some people would settle for a bathroom inside their bedrooms or a working air conditioner or sometimes, if they're lucky, a really good view of the city.
But the apartments at Sky Garage Penthouse, located at 200 11th Avenue, New York like to take things further.
Their three-bedroom, 3,500 sq ft apartments are equipped with luxurious furniture, floor-to-ceiling windows, and a lounge that overlooks The Empire State Building.
And get this – even cars get their own elevators. Because why the hell not, right? Talk about keeping your cars close to your chest!
These apartments are built for celebrities who wouldn't want to drive to the entrance and be hounded by paparazzi. Due to its privacy, this penthouse has seen many a celebrity, with the likes of Nicole Kidman, Keith Urban, Domenico Dolce, and Lady Gaga gracing its halls.
4. Odeon Tower Sky Penthouse
Monaco is known for all things luxurious—hard-to-get-into casinos for the VIPs, luxury yachts, rare cars. Name it, they have it. Now, they also have one of the world's most expensive penthouses.
Clocking in at 387 million USD, this five-story 35,000 square foot penthouse features floor-to-ceiling windows and a glass balcony that looks out to the Mediterranean Sea.
If the view is not enough, the infinity pool has a slide attached to it that starts from the balcony—perfect for anyone chasing a healthy dose of adrenaline while partying on top of the Tour Odeon, the second tallest building along the Mediterranean coastline.
Of course, to up the ante, you will also be served by your own private chauffeur and caterer.
5. Spencer Condominium
No, you are not transported to 17th century France. Yes, this penthouse was designed with the era of King Louis XIV in mind.
Home to comedian and actress Joan Rivers until she passed in 2014, this three-story penthouse located on top of the Upper East Side Mansion in NYC boasts of four bedrooms, two kitchens, five fireplaces, and antique paneling and columns.
It is said that the 5,100 sq ft penthouse can accommodate up to 125 people, perfect for the times when the actress hosted parties. The windows look out to the Manhattan skyline and Central Park.
6. Opus Apartment Penthouse
A little closer to home, this 6,200 sq ft penthouse sits on the top floor of Opus, located in Hong Kong. The apartment features four suite bedrooms, a powder room, and two parking spaces.
The beauty of this penthouse is that the building itself is situated on top of a hill, giving any occupant a great view of the Hong Kong skyline. Opus' winding glass columns also gives the penthouse a unique floor plan that challenges conventional layouts.
7. Pierre Hotel Penthouse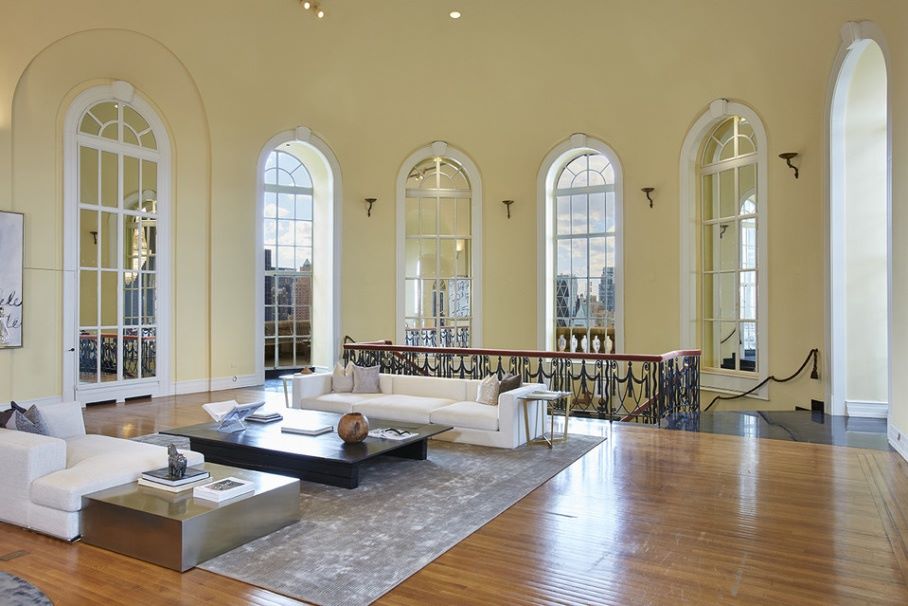 Sporting that contemporary look and feel, this cavernous 12,000 sq ft penthouse occupies the three topmost floors of the Pierre Hotel in New York. This apartment was once the hotel's ballroom, which was then refurbished into a penthouse.
The ceilings are about 23 feet high, with five bedrooms, four terraces, three small kitchens on top of the main kitchen, a sauna, and a private elevator.
Because yes, you need that many kitchens if you live in this huge penthouse. You wouldn't want to come out in the middle of the night looking for a snack and finding out the nearest kitchen is three floors down, would you?
So tell us — which of these seven penthouses did you like the most? Let us know in the comments!