No matter the size of your living room, you can transform it into a wonderful haven where you and your loved ones can relax, bond, or hang out. Arranging a spacious room is relatively an easy task. You just have to place homey decorations and add accents to make it more fascinating and appealing. However, this is not the case when it comes to transforming living rooms with a limited area.
Worry not, though, as we have listed clever design ideas that can make your teeny-weeny living space seem bigger. All you need is an ounce of creativity, an ample amount of time, and budget that won't cost you much.
Purchase Chairs with Storage
Before you buy a sofa set, you must consider the size of your room. Say you only have 900 square feet allotted for living room. Buying a bulky sofa set may not be the wisest decision you can make. In this case, you can buy chairs with hidden containers where you can store books, magazines, and other stuff. Everything you have to buy needs to be multi-purpose. This way, you'll be able to maximize the furniture's use while minimizing your expenses.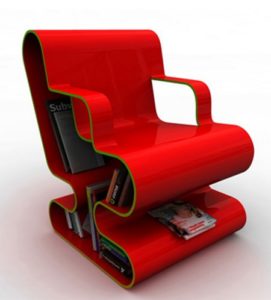 Shop with Style in Mind
It is logical to consider function before you buy a furniture or equipment. But if you have a small living room, shopping with style in mind would also be proper.  Choose mini-tables, lamps, mirrors and other home supplies that are lovely to look at. Your guests will surely be impressed, not minding the size of your living room.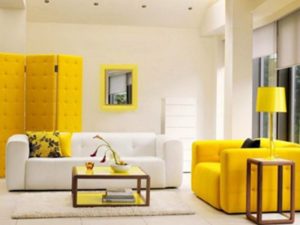 Display Artwork on One Side
Expand or stress the height of your room by displaying your artwork strategically on one side of the room. There's nothing more intimidating than staring at a wall with nothing on it. If you have a stash of paintings, it would be better to group and hang them together to create a grand impact on your wall. This will let your guests focus on one side, giving them the illusion that your room is larger than it actually is.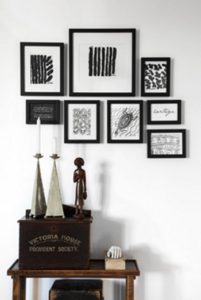 Hang Your Curtains High 
Women wearing cropped tops appear taller and more slender. This is practically the same idea why you should hang your curtains high or use shorter draperies. Curtains hung above your windows impart height and airiness. We suggest you to use curtains with tiny designs and soft colors to make your space look cleaner and cozier.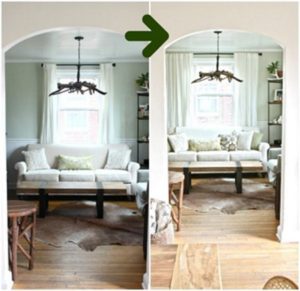 Use Accents with Dramatic Color
Small rooms don't get a lot of light. To balance the dimness in your room, display things with bright and vibrant hues. We also urge you to coat your walls with white or ivory paint to make your room look advanced. However, if you want less light for your room, you can use dark-colored furniture to make itseem like a dramatic jewelry box. The trick is not to mix bright and dark objects together.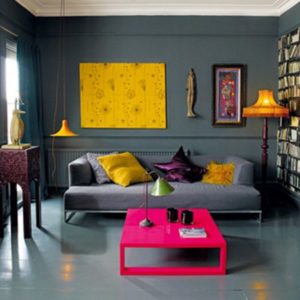 Install Wall-Mounted Lamps
Save room on floor space by using lighting equipment that you can mount on your walls. Installing a wall-mounted lamp is a brilliant solution that will make your living room look posh without using too much space. Lamps also act as décor themselves, so you're definitely hitting two birds with one stone here.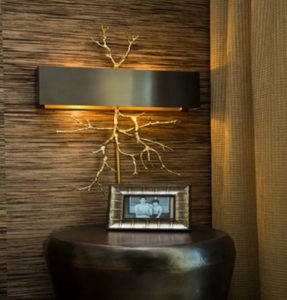 Hang Mirrors
Make your room appear brighter by positioning small to regular-sized mirrors to reflect light. You can easily find smaller mirrors at thrift stores. To make them look more stylish, you can paint their frames and hang them on the wall in the same place. This is a tricky way to make your guests feel like they are in a bigger room.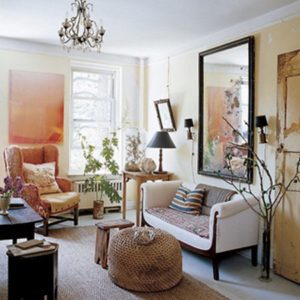 Be a Minimalist 
Live by this rule: if your living room is mini, be a minimalist. Using smaller-than-usual supplies will not only let you maximize your space, but will give your room a cleaner look as well. You may use a sofa with lean lines and minimal cushioning. Just be sure that your things are not too small for your giant friends.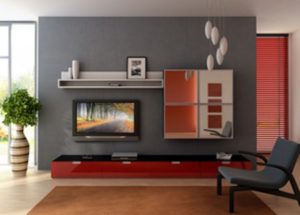 Put Pattern on the Floor
The overall appeal of your living room does not only rely on the furniture you have and the artwork you display. You must also focus on using well-designed upholstery that will make your room appear more spacious. For one, you can use a patterned rug to add tactile and visual interest to your little space. Avoid installing flooring with big and bold designs, as it will only magnify your lack of space.