Admit it; you have too many of them, anyway. You already have God-knows-how-many books on your to-read list, still you can't help but hoard the best titles you see every time you pass by the nearest book sale.
But what to do with the books you're done reading and the ones you won't be opening for quite some time? Sure, you can always do the boring thing and let them age away in your dusty bookshelf. But why turn your library into a graveyard for pre-loved and shelved-away books when you can use them to add spunk to your home?
Here are 8 easy-to-do ways you can decorate and craft with books.
Book-Tower-Slash-Side-Table
Let's start with perhaps the easiest on the list—a side table made out of books. Simply stack up some books, going for the hardbound ones to make your tower sturdier. You may want to consider those hefty coffee table books and encyclopedias. Add a bit of twist to the design by—well—twisting the tower a bit. Finish it off with a neat little, centerpiece on the top.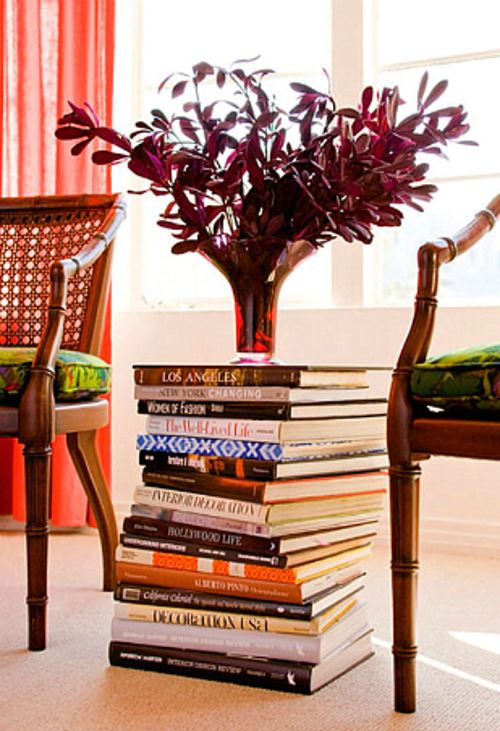 A Center Table
Idea #2 is pretty much as straight-forward as Idea #1, except this time, you create four book towers instead of just one. Again, go for the sturdier, heavier, hardbound books you can find in your collection, just so your center table won't tip over. Make sure all four towers have the same height. Place a transparent glass over the book piles, then decorate with stunning pieces on each of the four corners.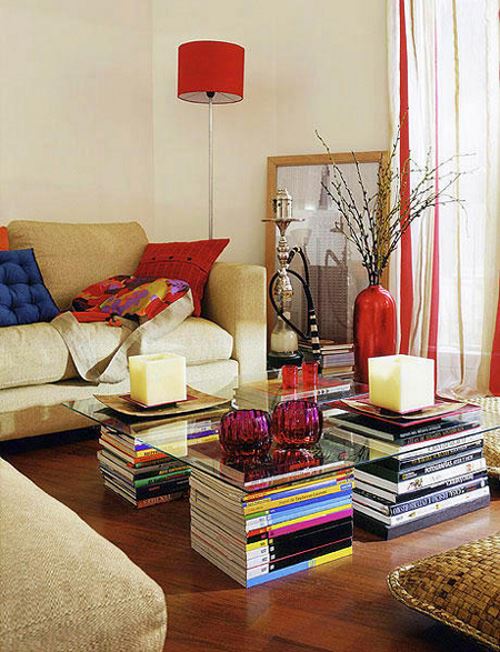 An Oversized Wreath of Words
Here's one that's a bit craftier but still wins points for being easy to do. Take an old book (one that you're sure you won't regret tearing apart—an old dictionary perhaps?), some glue, and a styrofoam donut. Tear away some pages then roll them up. Glue onto your styrofoam for a big and bold paper wreath that'll give your room a bit of a rustic feel.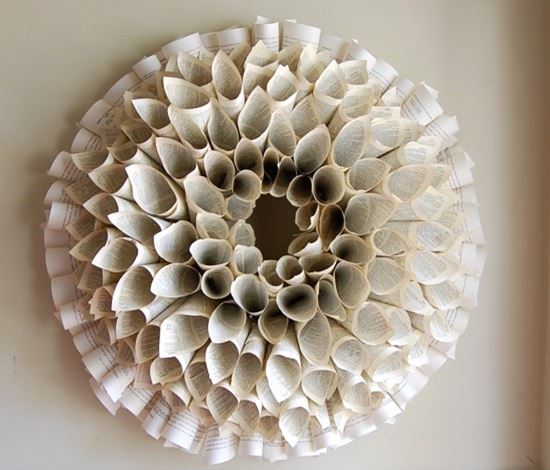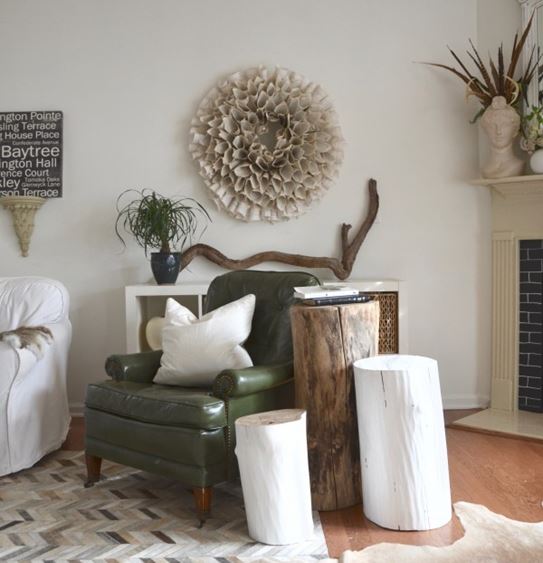 A Literal Wall-Paper
Since we've already started talking about ripping book pages for craft, here's another nifty idea. Simply tear them away from an old book, then arrange against the wall for a textured wallpaper design.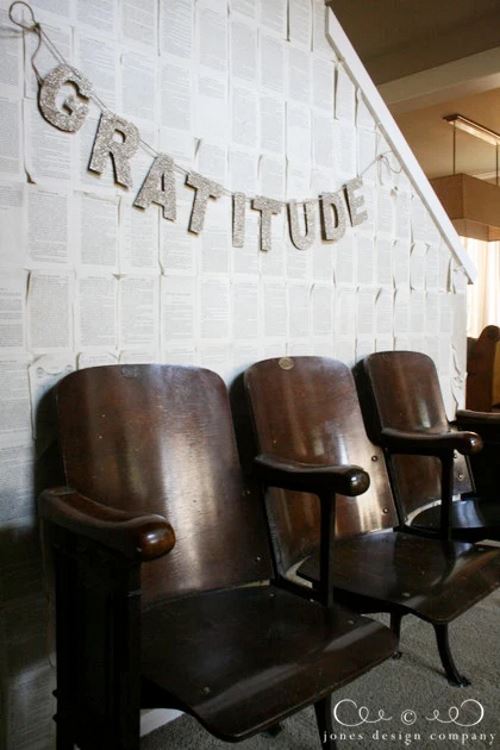 Up Your Headboard Game
The idea is slightly similar with the wallpaper craft, except this one doesn't have to involve tearing up any pages. With this clever book-covered headboard, you can now have your best bedmates with you every time you go to bed.
Book Planters
Books are made of paper. Paper are made from trees. Therefore, trees are books-to-be. With this easy DIY idea, you can now let the circle of life continue by letting trees grow IN books that have been turned into planters.
Just take out any hardbound copy and use a 4 1/4 inch hole saw to drill out a hole into the book. If you're using a smaller book, you can always use a smaller saw as well. Fill up the hole with some soil and put your plant in place. Use some pebbles to hold the plant firmly in place. This looks great as a centerpiece in your living room or as an accent piece for the bathroom.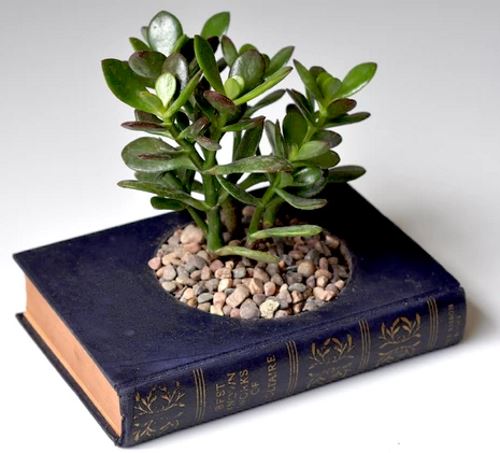 Book Page Chandelier
There are some designers and antique shops that sell pre-made book page chandeliers. They're really interesting home décor pieces, but they can get quite pricey.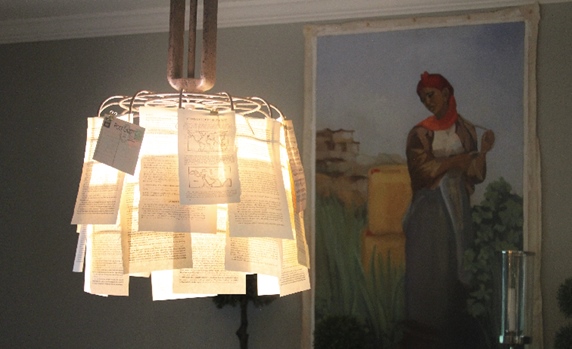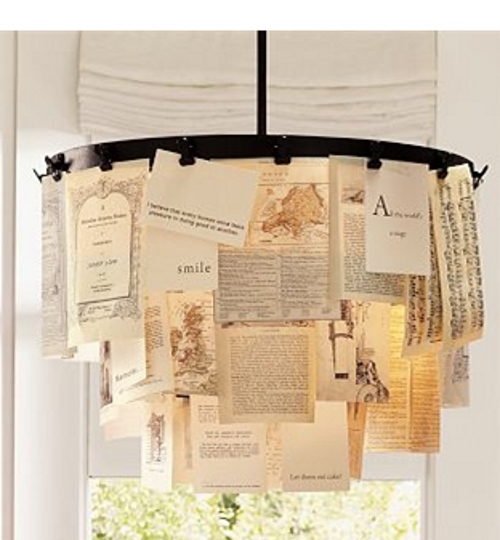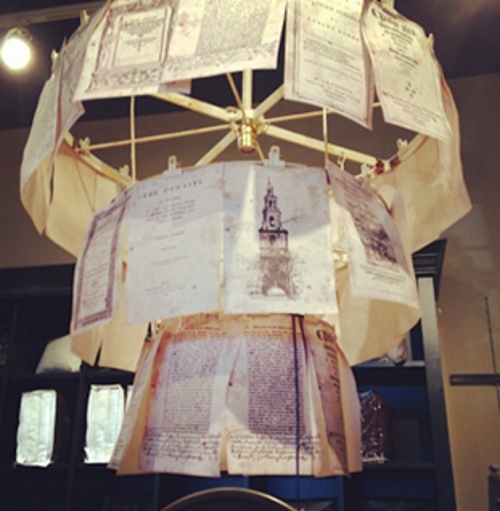 (Sold by the Pottery Barn) teresaswanstromanderson.com
No budget? No problem. You can easily craft yourself one. You can use an old and outdated chandelier that's in need of a serious update. If you don't have one, you can always get one for a great deal at an antique shop. Tear up some pages from old books, then hang them onto your chandelier using gold binder clips and paper clips.
Monogram Books
This intermediate-level project is great when using books with patterned covers. If you're pretty confident with your letering skills, you can go ahead and sketch the letter pattern onto the book cover immediately. If not, you can just go to your computer and print out a letter as large as your book. Tape the printed letter onto your book and carefully cut along the edges of the letter with a band saw.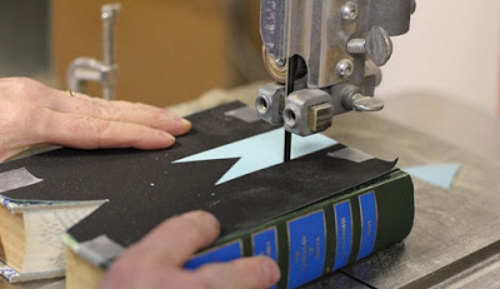 Once you're done, take off the pattern from the book. Try spelling out a word, like R-E-A-D and place them on your bookshelf.