uPVC Cylinder Cover Set Distributor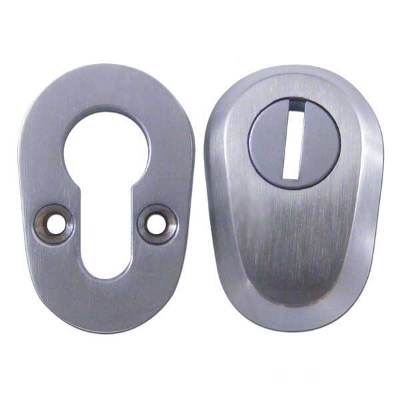 Golden Home uPVC is an importer and wholesale supplier of uPVC cylinder cover set in the Philippines.
For additional security, as well as peace of mind, it is important for uPVC doors to have a uPVC cylinder cover set.  According to statistics, 73% of burglaries are through doors, not windows or other exposed openings.  In 53% of these cases, the intended victims are at home.  Unfortunately, 20% of those victims are not aware of intruders.
Some uPVC and aluminum doors are equipped with a euro cylinder as a locking mechanism.  Burglars use a method called lock snapping or cylinder snapping to break into less secure properties.  What these intruders do is break the cylinder in order to manipulate the lock to open.  If the locking points are compromised, the lock is rendered useless and the door can be easily opened.  This is why homeowners and building maintenance managers should take extra precautions by procuring a uPVC cylinder cover set.
Golden Home uPVC has stocks available for selling and distribution of this device.  Our company also as a full range of uPVC products at very reasonable prices.  We have a free catalog for downloading at our website.  Those who wish to become distributors and resellers, please feel free to contact us below.
We Only Carry the Most Trusted Brands

If you want to have no more headaches when it comes to your uPVC suppliers because of poor quality uPVC products:
Call Us Now at +63 (2) 2875394 to Discuss Your Needs
or
Contact Golden Home uPVC through the form now and one of our uPVC experts will contact you in 2-3 business days